UFC 5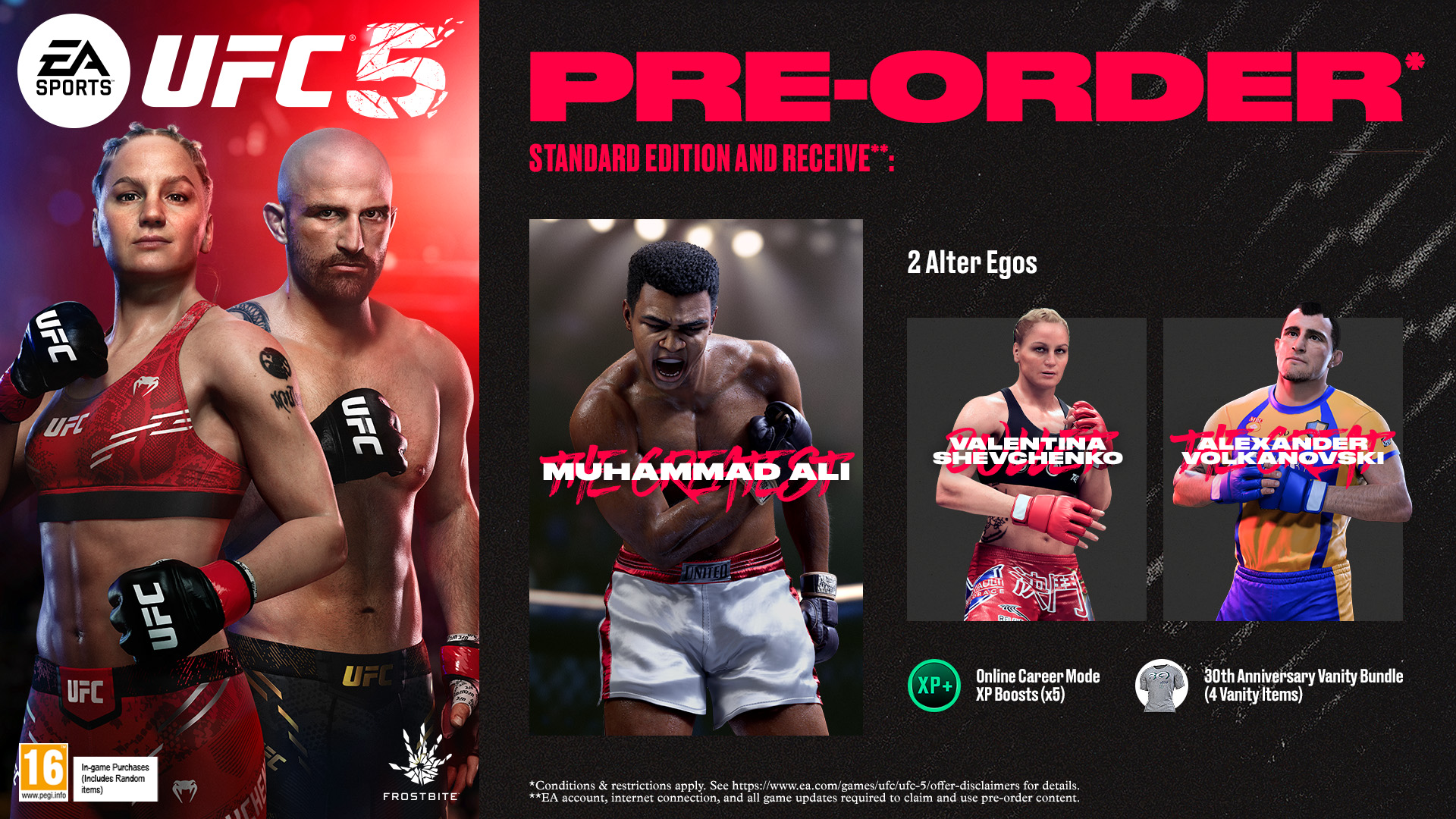 Pre-order* EA SPORTS™ UFC® 5 Standard Edition and receive:

● 2 Alter Egos (Alexander Volkanovski, Valentina Shevchenko)
● 30th Anniversary Vanity Bundle (4 Vanity Items)
● Online Career Mode XP boosts (x5)
● Muhammad Ali
EA SPORTS™ UFC® 5 is as real as it gets. Powered by Frostbite™ engine's advanced
rendering capabilities, your favorite fighters now have unparalleled character likenesses to
complement next-level environment fidelity that'll make their walk to the Octagon feel like a PPV
main event. The all-new Real Impact System brings the intensity and strategy of a fight to life,
as cuts and strikes absorbed can affect mobility, defence, stamina, and more. Take too much
damage, and the doctor could stop the fight. For lovers of the ground game, Seamless
Submissions makes grappling feel more fluid and realistic than ever before. And if you like to
admire your handiwork, new Cinematic K.O. Replays capture your fight-ending finishes in all
their punishing glory. UFC 5 updates with fresh new Fight Week content, features, and
challenges every single month around real-world UFC events. Plus, Alter Egos offer new
versions of your favourite fighters to play with every month. Bring the next evolution of the fight
game home with UFC 5.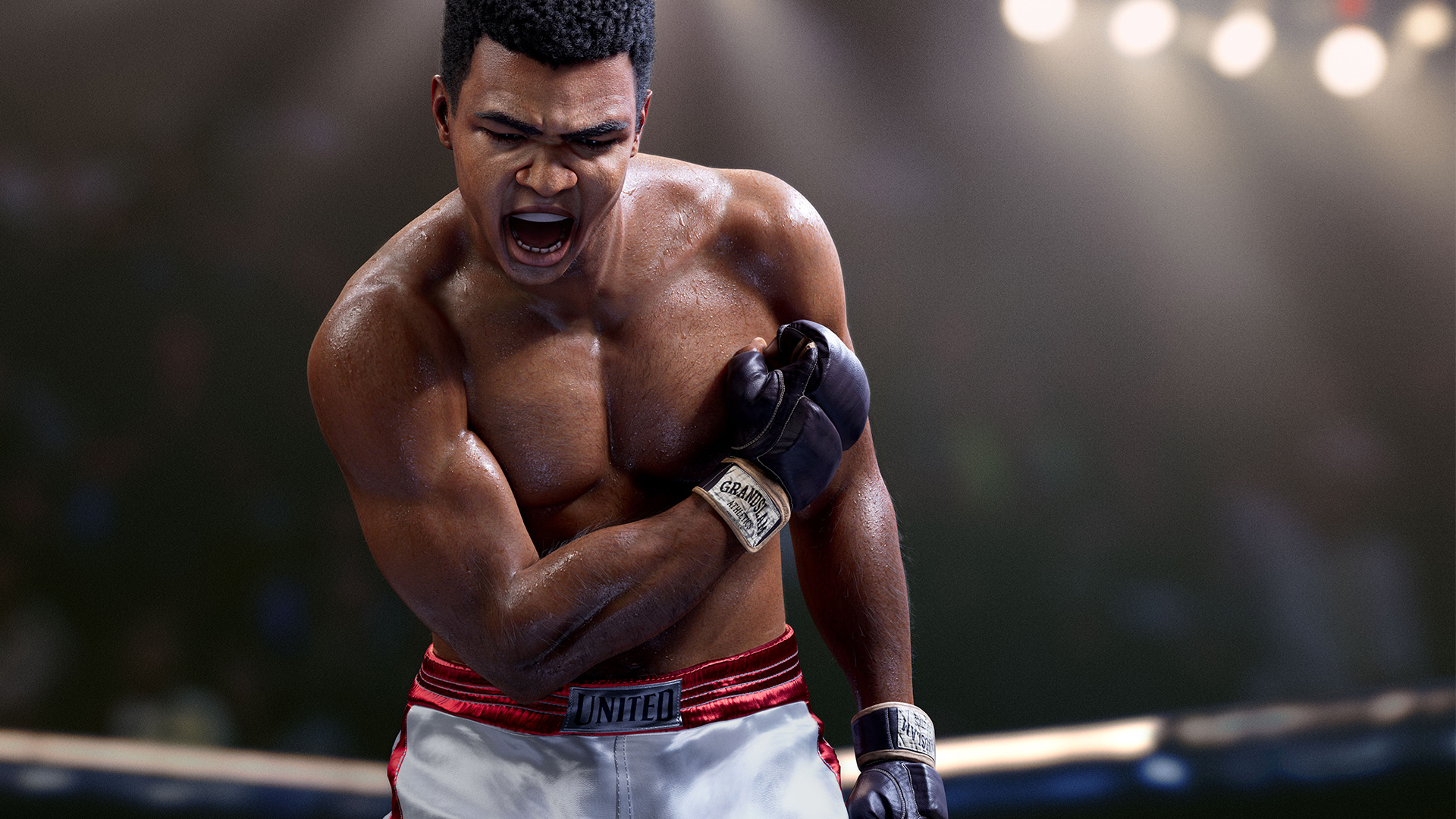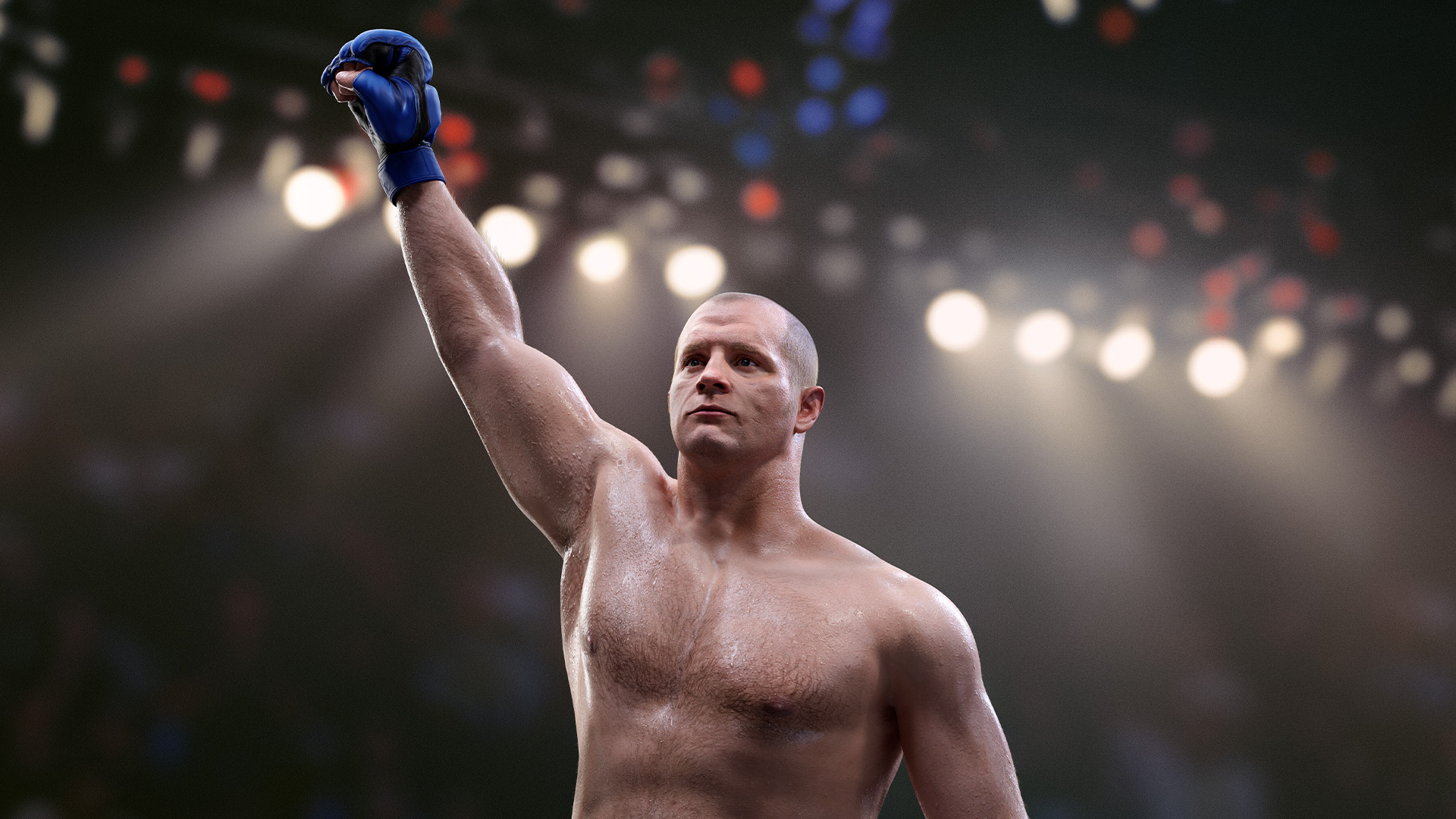 PRE-ORDER
EA SPORTS UFC 5 - Xbox Series X
£41.99
EA SPORTS UFC 5 - Xbox Series X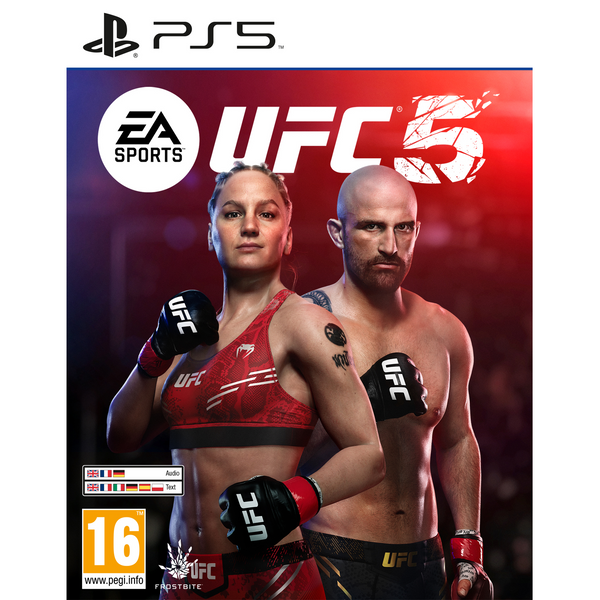 EA SPORTS UFC 5 - PS5
£41.99
Sold out
REAL IMPACT SYSTEM
What makes an MMA fight? It's the stakes, technique, drama, and pure reality of the moment.
UFC 5 captures that in more authentic detail than ever before, from next-generation graphics
upgrades that give gameplay animations new life, damage systems that marry the brutality and
strategy of the fight game, gameplay updates that make the action feel even more fluid and
realistic, and much more.

Authentic Damage
Cuts, bruising, and swelling accumulate in accurate locations based on the damage you
inflict and take in-game, including over 64,000 possible combinations of facial damage a
fighter can sustain. All damage is now rendered in more detail than ever before, affecting
character attributes in a truly genuine fashion. Causing a cut on an opponent's brow that
trickles into their eye will impair their vision and cause them to take more damage on
that side, as they don't see strikes coming. Bust an opponent's nose to hinder their
breathing and slow their stamina recovery. Take too many low calf kicks and your
character will start to limp and their mobility declines. Authentic damage adds a whole
new layer of strategic possibilities to the fight.

Doctor's Checks & Stoppages
Authentic damage comes with authentic results. If the player sustains a significant injury
— like a broken nose or swollen eye — the ref can now step in, pause the action, and
get the ringside doctor to inspect the damage. If the player is unable to shift tactics and
protect that injured area from getting hit, just like in the real-life Octagon, the doctor
might stop the fight. This gives players more strategic opportunities for players to either
thrive or survive.

NEW STRIKES & HIT REACTIONS
It's a striking evolution. UFC 5 features all-new animations for ground and pound elbows,
spinning attacks, and several other punches, kicks, knees, and elbows. Plus, new striking
animations emulate heavy hitters, professional kickboxers, and more, giving you all new ways to
stand and bang. In addition, new hit reaction animations and physics make sure you feel the
impact of a clean connection.

SEAMLESS SUBMISSIONS
The new Seamless Submissions functions as a revamped extension of the existing grappling
systems with faster animations and the removal of mini-games. Beginners can use Grapple
Assist for help on the canvas, while veterans will have new depths to uncover and enjoy. The
new submissions offer a smoother, more authentic ground game that is sure to be a grappler's
delight.