Little Nightmares I+II Bundle - Switch
bandai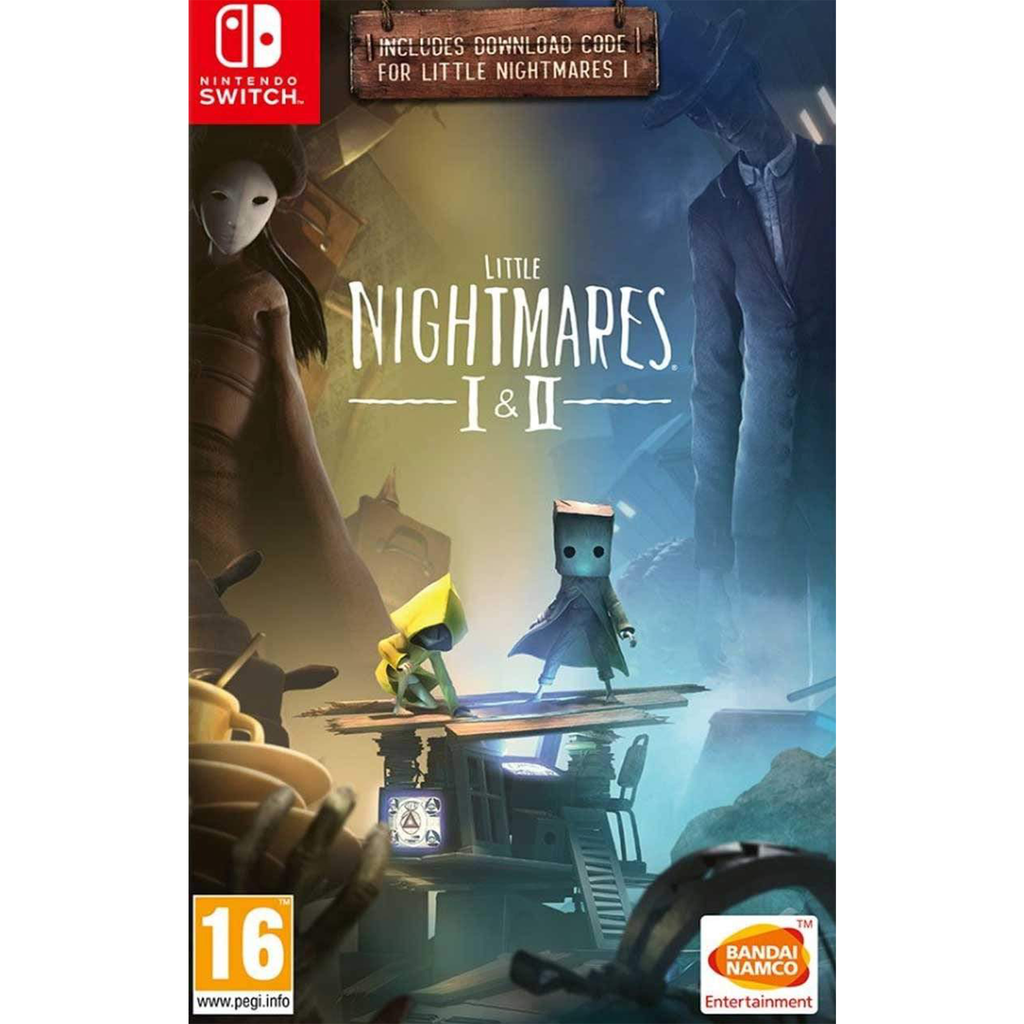 Immerse yourself in a dark fairy tale that will confront your childhood fears, package contains parts one and two.
Little Nightmares I:
Do you remember your childhood fears? LITTLE NIGHTMARES, developed by Tarsier Studios, will allow you to embark on a grim adventure as you help our hero "Six" in her yellow raincoat escape The Maw - a vast, mysterious vessel inhabited by corrupted souls looking for their next meal!
CHILD'S PLAY: Reconnect with your inner child, and unleash your imagination to stay out of harm's way. In this oversized world you must be smart, resourceful and ready for anything, for even the smallest doubt can lead to a fatal misstep.
GRIM UNIVERSE: Confront your childhood fears in this darkly whimsical tale of Six and The Maw. Trapped in this grim world with nothing but her wits and a lighter, Six must find light in the darkness and strength in her weakness if she is to survive
THE DISTURBING DOLLHOUSE: Explore Six's world, a disturbingly charming dollhouse that is both a prison and a playground. Part dream, part nightmare, every step through The Maw feels like a leap, and every shadow a vast darkness!
Little Nightmares II
 is a suspense-adventure game in which you play as Mono, a young boy trapped in a world that has been distorted by the humming transmission of a distant tower. With Six, the girl in a yellow raincoat, as his guide, Mono sets out to discover the dark secrets of The Signal Tower and save Six from her terrible fate; but their journey will not be straightforward as Mono and Six will face a gallery of new threats from the terrible residents of this world.
Will you dare to face this collection of new, little nightmares?
Features:
PLAY A THRILLING SUSPENSE ADVENTURE THAT WILL GIVE YOU THE CREEPS - Take Mono and Six on their adventure while a host of brand-new Residents lie in wait to haunt your steps and disturb your sleep. Outsmart the sadistic Teacher, survive the bloodthirsty Hunter and more hair-raising characters down to the roots of evil.
DISCOVER A FANTASTICAL HORROR WORLD CORRUPTED BY THE SIGNAL TOWER - Escape a world that's rotten from the inside. Your journey will take you from creepy woodlands, to sinister schools, on your way to the dreadful Signal Tower to find the source of the evil that spreads through the TV screens of the world.
REKINDLE YOUR DORMANT HEROIC CHILD TO SAVE SIX FROM THE DARKNESS - Six is fading from this world and her only hope is to guide Mono to the Signal Tower. In this world of nightmares, you are her only beacon of hope. Can you muster the courage to fend off your tormenters, and co-operate with Six to somehow make sense of The Signal Tower?